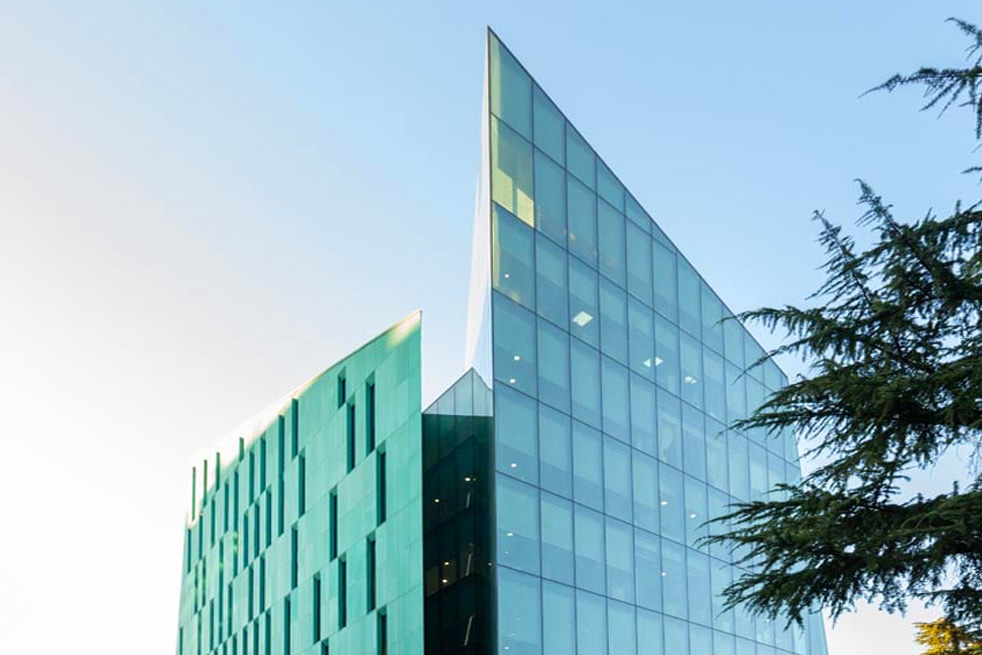 Credins Bank Headquarters
Works for the "Installation of the air conditioning and ventilation system, hydro-sanitary and fire fighting systems at the "Credins Bank Headquarters", at a multifunctional 2-7 and 8 floors building with 4 underground floors (2 parking and 2 services), located at Street Vaso Pasha, Tirana, including floors -2 & -1, floor 0 & UNGS, +1 & 1M, Floor +2 up to floor +7, UTA 1 and 2.
  Air conditioning
  Air curtain
  Air purification
  Control
  Heating
  Hot water
  Refrigeration
  Ventilation
Project description:
Mechanical systems: General air conditioning with DAIKIN VRV IV with full inverter compressors with continuous heating even during the defrost function, produced by DAIKIN.
There are a total of 22 VRV outdoor units (systems) and 148 indoor units, serving all office and service floors (from floor -2 to floor 7).
The capacity of the system is 750 kW (thermal). The outdoor units were installed on the ground floor terrace, as determined in the project, while indoor units have been allocated in rooms and halls and installed on hung ceilings according to the project.
The air for ventilation is provided through to dedicated air treatment units of the UTA type. This unit was installed on the 2nd underground floor nearby the vertical technical well, as technically specified.
One of the air treatment units serves the northwestern part of the building, while the other serves its southeastern part.
The systems terminals are air diffusers and grilles of various shapes and sizes, depending on the typology of the hanging ceiling and the amount of air ventilating into and from the environment. The fire fighting system, and the hydro-sanitary system (water supply system and warm sanitary water production system) have also been provided.
Electric systems:
1. Power systems (TM/TU power rooms, diesel generator power supply system, independent power supply system with UPS).

2. Lighting system (Day lighting, emergency lighting with UPS independent source, emergency lighting with battery independent source, automatic lighting control).
Special Systems: DATA Network – Telephony [(LO data transmission network, with CU lines, data center (server room)], CCTV (surveillance), public address (intercom), fire alarm system, leak alarm system, access system.